Cottage Trailers
If you're looking for an extra stylish restroom option, talk to C&L Sanitation, Inc. about our portable cottage trailers. These attractive, fully equipped and fully furnished rooms offer sinks with running water on both sides of the trailer with urinals on the male side and flushing toilets on the female side.
The cottage trailer series allows you to provide a durable, yet upscale restroom trailer, that has unbeatable style that you won't find anywhere else. The Cottage Series features distinctive wainscoting, crown molding, graffiti resistant walls, wood grain flooring, and individual stalls with classic 6-panel doors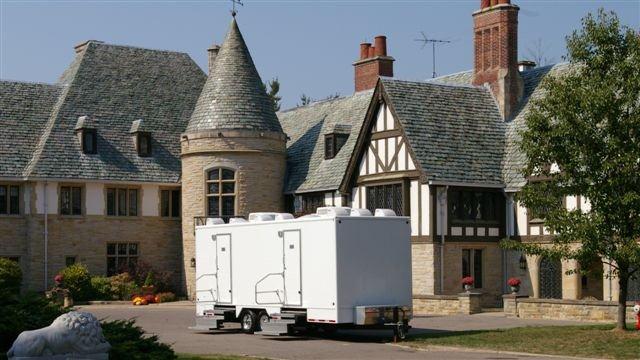 Benefits of our Cottage Trailers:
Clean white waterproof trim and wainscoting
Sleek stainless steel sinks with durable solid surface tops
Classic stall doors with six panels and lever handles
Solid wall covering with high quality linen texture
Stylish wood grain flooring
Ideal for weddings, food festivals, engagement parties and any other event that requires an elegant touch, C&L Sanitation's cottage trailer portable restrooms add an air of sophistication to your special occasion. In fact, using the cottage trailer is just like using the restroom in a chic hotel or restaurant!