Portable Showers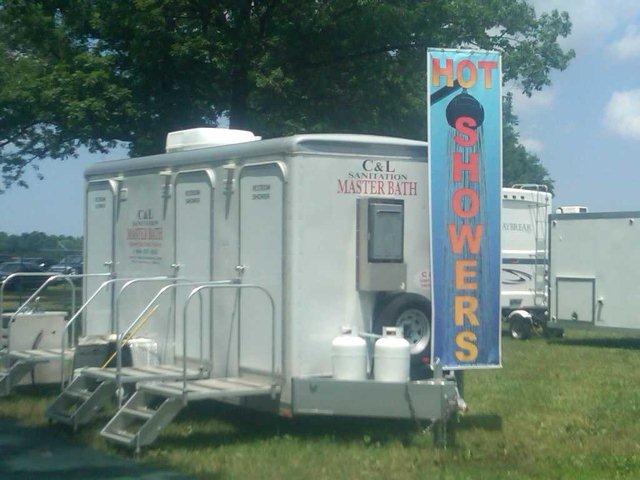 C&L Sanitation, Inc. offers the highest quality portable shower equipment, perfect for special events.
Master Bath
Wide shower units with sink, mirror, flushing toilet, heating or air conditioning, and private locking doors. The units only need a 110V power supply to operate.
Our Shower Units, are simple solutions for events such as weekend festivals or family reunions. Shower Units include unisex bathrooms each furnished with a sink, toilet and shower.
Benefits of the Shower Trailer
Flushing porcelain toilets
Sinks and mirrors
Hand soap and hand towels
Air conditioning or heating
Dual handrails and low entry platforms
Low level outdoor lighting
Occupancy light indicators
Our Shower Units are completely self contained and operable using one 110V outlet or generator for the lights, heat or air conditioner, and on-demand propane water heater. Water is supplied by a spigot and garden hose or a 125 gallon on-board fresh water holding tank. The unit houses a 380 gallon waste holding tank; grey water from the showers can either flow directly into the waste holding tank or be diverted to a specific location on the ground. If operated from a continuous water source, the unit provides approximately 450 hot showers before the propane needs to be replenished.
Three-Stall Restroom Unit Specifications
Shower pan width: 52"
Shower pan depth: 31"
Trailer length: 20' (including trailer tongue)
Trailer width: 11' (with stairs down)
Several sizes of shower trailers are available with advance notice.
If you're planning an event where on-site showers will be needed, why not get in touch with C&L Sanitation today and see how we can help.