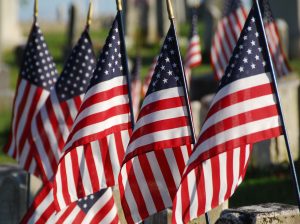 Memorial Day is fast-approaching! (Did you know it was originally called Decoration Day and has been celebrated since the Civil War?  The original Decoration Day was May 30—the date chosen because no battle was fought on May 30.)
Americans have long considered the holiday as the first big weekend of summer, and a perfect time to celebrate with the first big "fling" of summer with friends and relatives in their back yard.
If you're planning a Memorial Day celebration, why not spare the wear and tear on your home's bathroom and rent a portable restroom from C&L Sanitation.  Our units are clean and sanitary and (of course) include the amenities: toilet paper and hand sanitizer. Our customer service people can tell you how many units will accommodate your invitation list.  Why not give us a call today, or if you prefer, you can complete our pre-event form to get started.