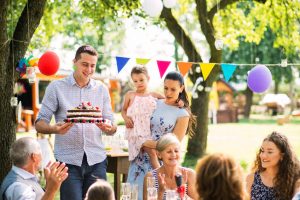 At C&L Sanitation, we're gearing up to celebrate Independence Day in style! The 4th of July is a day filled with joy, laughter, and the dazzling spectacle of fireworks. As you plan your festivities, rest assured that wherever you go, a C&L portable restroom will likely be there, ensuring your comfort and convenience throughout the day.
For over four decades, our iconic teal-colored portable restrooms have been a staple at parks, communities, businesses, and private gatherings. We take immense pride in setting the industry standard when it comes to sanitation. Our loyal customers can attest to the unmatched quality and reliability we bring to every event.
As you proudly display your stars and stripes, we join you in waving the red, white, and blue! This year, we celebrate the remarkable 247th birthday of the United States. It's a momentous occasion that reminds us of the enduring spirit of freedom and unity that defines our great nation.
But let's not forget the practical side of things. We know that when nature calls, you need a solution that's convenient and hygienic. That's where C&L Sanitation steps in. Our portable restrooms are meticulously maintained, ensuring pristine cleanliness and stocked with essential amenities. So, while you revel in the festivities, you can do so with peace of mind, knowing that we've got your back.
Whether you're hosting a vibrant neighborhood barbecue, attending a lively community parade, or enjoying a leisurely picnic in the park, C&L Sanitation is here to make your experience hassle-free.
So, as you prepare for your 4th of July celebration, remember to include C&L Sanitation in your plans. We pride ourselves in providing top-notch portable restrooms, allowing you to focus on what truly matters: cherishing moments with loved ones, savoring delectable treats, and creating cherished memories.
Join us as we raise a toast to the United States on its 247th birthday! Let freedom ring, and let C&L Sanitation be your go-to choice for all your portable restroom needs this Independence Day!