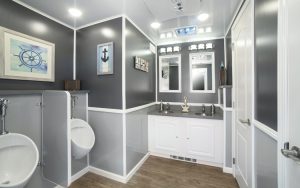 (Drum roll, please!)  Introducing the Spa 20 Model —the newest restroom trailer in the C&L Sanitation lineup!
The spacious and tastefully designed Spa 20 features a ladies' area with four (4) stations and a men's area with two (2) private stalls and two (2) urinals.  Both areas have twin basin vanities.   Highlighting the style and décor are wood-grained floors, Corian countertops, and an upscale color motif of grey with white accents.
If you're looking for a classy, elegant restroom trailer for your next special event, the Spa 20 Model is just what the doctor ordered!   The outside may look like a "trailer," but the inside is all about style and beauty.   Call us today to talk to one of our knowledgeable customer service specialists who can answer all your questions.