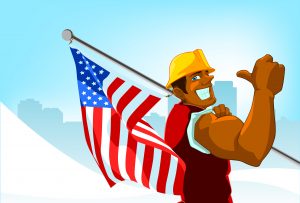 It's been a busy summer here at C&L Sanitation!  Our employees have been all over northwest Ohio and southeast Michigan providing portable restrooms, restroom trailers, sani-sinks, and shower trailers to county fairs, music festivals, heritage festivals, family reunions, and competition events (golf, tractor pulls, biking, etc).  At C&L Sanitation, we know that the dedication and commitment of our loyal employees helps to enrich our customers' enjoyment at all these summer events.  
Reflecting on this past summer, we give a big "THANK YOU" to our employees (including the crew of college students whose help is invaluable).  Many times they worked weekends and late nights to assure that our portable restroom units were clean and sanitary -- and always ready for the next day's festivities.
As we celebrate Labor Day, we acknowledge the contributions of the American worker, and especially the contributions of our own C&L Sanitation staff who exemplify customer service, hard work, and the pride that comes with a job well done.