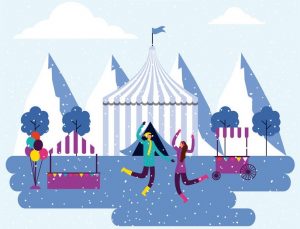 Is there a Winter Carnival event near you?  A perfect cure for cabin fever for sure!  It's all about the ice sculptures, a winter fun run; and of course, the hot chocolate and other winter treats!  It doesn't even seem quite so cold if the portable restrooms are restroom trailers from C&L Sanitation.
Event organizers are recognizing the importance of restroom comfort and can choose from a wide variety of restroom trailers.   Event attendees will be surprised at the amenities available in a portable restroom.   Whether it's a VIP trailer, a Luxury 10 Model, or a Cottage Trailer, all of our restroom trailers are  heated, with flush toilets and running water.   All of C&L's restroom trailers are explained in depth on our "products" link.
So get outside and enjoy some winter fun!  C&L Sanitation (with over 30 years in the portable sanitation business in northwest Ohio) will make sure that your restroom needs are comfortable and convenient.