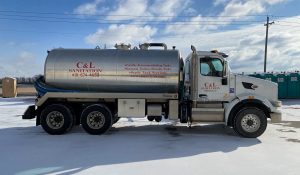 For over 60 years, C&L Sanitation has been cleaning septic tanks all over northwest Ohio.  C&L's pumping schedule has always been customer friendly; and now there's yet another reason not to put off required maintenance for your septic system — Saturday Scheduling!   From now through the end of October, our technicians are available for Saturday septic tank cleaning!
Not sure when your septic tank was last pumped?  C&L Sanitation has been maintaining customer pumping records for several years, and our office staff can tell you the last time the tank was pumped.  Based on the size of the tank, the date of the last pumping, the number of bathrooms and family size, we can suggest a pumping date.  Appointments can be scheduled at your convenience—even on a Saturday if that works best for you!
When you call for an appointment, talk to your neighbors beforehand—perhaps they would be interested in scheduling an appointment for their septic tank on the same day.  C&L's neighbor discount will save money for both of you!  C&L continues to send "recall reminder notices" which can also be used as a coupon pumping discount.  There really is no reason to put off scheduled maintenance for your septic tank.  Give us a call today!