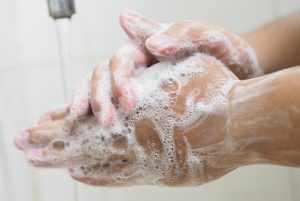 How many times has that message echoed in your ears? Didn't matter if it came from your mom, grandma, the babysitter, the doctor, or even your teacher, it warned us that the best way to keep all those nasty germs at bay was to wash our hands!
But. . . what if there is limited or no access to fresh water?  It's a common problem in construction areas, food vending sites, hiking/biking trail rest areas, and temporary field offices.  C&L's answer to all of the above is "we can help". Let us provide full hygiene for your guests, visitors, and workers with a portable sink.  C&L offers a wide range of sinks that are suitable for any occasion from upscale events to busy work sites.
C&L Sanitation's product line also includes portable restrooms, restroom trailers, portable showers, and fresh water systems.  C&L continues to set the industry standard for restroom services.  "Washing your hands" has been a part of C&L's commitment to clean and sanitary portable restrooms for over 40 years.  Give us a call today and let us take care of your needs.