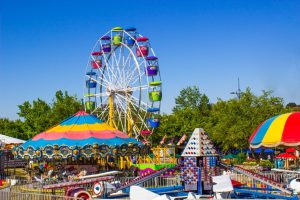 Northwest Ohio is home to dozens of fairs and festivals in August and September (and even into October). Whether the fair is local or county-wide, a wide variety of events appeals to young and old:  midway attractions, animal competitions, quilting and craft demonstrations, flowers and vegetables displays—the list is endless!
All these events are enjoyed by thousands of people who require comfort and convenience for their day-long stay. That's where C&L Sanitation enters the picture.  For over 40 years, festival and fair organizers know they can count on the service of C&L Sanitation to meet the portable restroom needs of all attendees. Portable restrooms (including those that are ADA compliant), restroom trailers, and sani-sinks are C&L's specialty. Fairgoers know that the familiar, teal-colored portable restroom with the C&L logo is an assurance of a clean and sanitary restroom.
Enjoy your day at the fair! Maybe attend more than one this summer. C&L will be there, too, to make sure your day is comfortable and convenient.