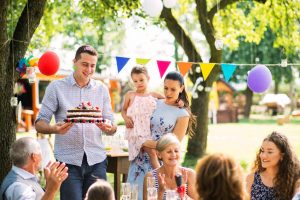 Cancellations, postponements, rescheduling, rearranging… well, nobody needs to be reminded yet again of the frustrations of 2020!  But here we are—it's spring of 2021 and hope springs eternal!  The hope that a graduation party, a retirement party, a wedding, a family reunion, or just a good-old back yard neighborhood cookout will actually happen in the summer (or fall) of 2021!  And, yes, whatever you're celebrating, C&L is ready, too!
C&L Sanitation, Inc. has an extensive product line of portable restrooms and restroom trailers, sani-sinks and hand washing stations.   Just check out our "products" link.  You will be amazed at the possibilities.  Whether your gathering is 20 people or 200, C&L has a solution for your restroom needs.
Why not give us a call today?  Our friendly, knowledgeable staff is ready to help you plan that long-awaited celebration of family and friends!