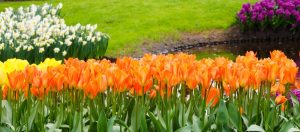 It's been a bit dreary out there lately, but don't let the gray skies and cold temps fool you!  Spring, as they say, is just around the corner, and here at C&L Sanitation it's "Getting Ready Time!"  The portable restrooms with the familiar C&L logo are getting ready to be delivered to the back yards, fair grounds, parks, and parking lots in northwest Ohio for graduation parties, outdoor weddings, church festivals, summertime reunions, county fairs, and all the other wonderful events of summer!
Whether it's a portable restroom, restroom trailer, MMU, or any other restroom in our extensive product line, it will undergo a thorough cleaning and inspection before it's ready for a summertime event.  Our employees are trained to look for broken hinges and handles, graffiti, inoperable toilet paper holders and hand sanitizers, cracks in doors and floors, etc.  In other words, C&L will make sure that any portable restroom unit or restroom trailer delivered to our customers has passed all the quality control standards which our customers have come to expect for the last 40 years!
Spring WILL be here (around that corner) and summer will surely follow!  Rest assured that C&L Sanitation will be ready for your portable restroom needs when it finally gets here!