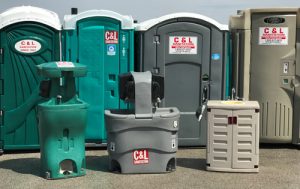 Does it seem that the C&L Sanitation logo is everywhere no matter where you travel in northwest Ohio? That's because we are!  C&L has been supplying portable restrooms for businesses, special events, charitable organizations, and communities for over 50 years!
Our customers trust our products and know that our service technicians will supply a clean and sanitary portable restroom that is maintained at or above every industry standard. You'll find C&L restrooms at road construction projects and building sites.  C&L portable restroom trailers are at private parties, weddings, charitable events, and fundraisers.  And, of course, you can count on the teal-colored portable restrooms and Sani-Sinks to be available at your favorite sporting event, music festival or community celebration!
So just how many (portable restroom options) is enough? Enough to accommodate our loyal customers for any special event, large or small. Check out the C&L website.  You'll be amazed at the variety of portable restroom products available!